Reliable All-In-One Energy System for installation in professional vehicles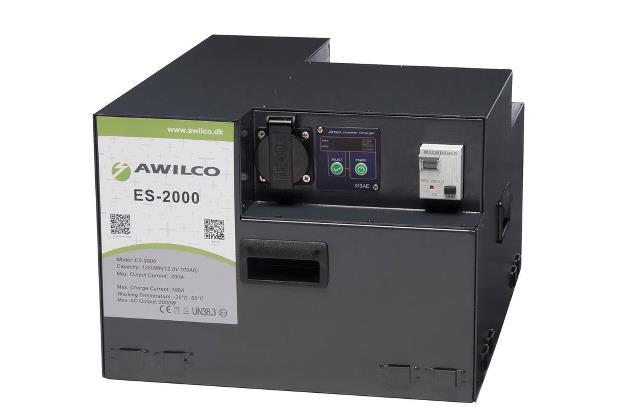 The high performance inverter will power up your 230V applications. The quality build in LiFePO4 battery will keep your system powered up for a long time.
Robust | Easy installation | Long lifetime
Buy the off-grid all-in-one system in our webshop here >
The AWILCO ES-2000 all-in-one energy system is designed to last
The high performance 2000W pure sine inverter will power up virtually any 230V AC application. Bring your most powerful handtools to work – and let ES-2000 support your workday by saving you time, searching for mains outlets.
The high quality build in LiFePO4 battery will keep your system powered up for a long time, and the state of the art battery management systems, protects the batteries from overload, ensures the longest possible system lifetime, and makes sure that any available charge energy, from vehicle alternator or external mains is converted to the fastest and most efficient charge for the battery to maximize your runtime.
The cabinet is designed with the professional user in mind – robustly build to work from the floor in a professional vehicle, safety relay for user protection, and easy to monitor display. If you wish to have a more in depth information on the status of the battery, you can get detailed information, using our free app – simply search for AWILCO in app store or google play.
Our unique drop-in installation brackets makes mounting easy, and equally easy to shift the ES-2000 to a new vehicle.
Connecting the system to your vehicle is done by easy and safe click connectors. Connectors for 12V DC and 230V AC are included in the system. Connection on the backside has been made in such a way that once installed, the cables does not compromise the depth of the unit, making installation easy for the installer and is at the same time optimizing the space needed for the system.
Make sure to purchase our battery separator (find it here) if you wish to charge ES-2000 from the vehicle alternator.
Should you decide to use a tablet to monitor the battery, the ES-2000 even has a USB outlet, to which you can connect your tablet to keep it recharged.
The unit does even have an extra 230V AC mains outlet on the frontside – just for that extra flexibility, saving you time searching for an available outlet.
ES-2000 is build to be an easy to use, reliable and flexible partner, anywhere you need 230V AC.
Open PDF one-pager with more details >
Link to ES-2000 in our webshop >
For details please contact our product specialist