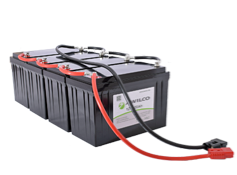 Serial and parallel connections
How to extend battery capacity from 100Ah up to 400Ah or voltage from 12V to 48V
LFP12100BM Lithium battery in metal casing:
This battery can be parallel connected as they have the unique feature that the battery capacity can be extended from the built-in 100Ah up to 400Ah of capacity by parallel connecting up to four batteries of same type with same voltage offering longer runtime and higher autonomy for the user.
Note: It is important that you ONLY use the AWILCO battery LFP12100BM, and it is important you only connect additional batteries to the system in parallel.
LFP12100B Lithium battery in plast casing:
Serial connection of lithium batteries
Connect the batteries according to the picture. 
Wires are connected to the poles of the battery as follows:
Negative terminal from battery 1 to positive terminal battery 2
Serial connect two batteries for 24V
Serial connect four batteries for 48V
Find LFP12100B in our webshop here
Read more about Lithium batteries here
Parallel connection of LFP12100B
Connect the batteries according to the picture.
Wires are connected to the poles of the battery as follows:
Positive terminal from battery 1 to battery 2
Negative terminal from battery 1 to battery 2
Find LFP12100B in our webshop here
The AWILCO energy systems and our LiFePO4 batteries have built-in bluetooth communication, download the AWILCO app, and both the energy system and battery are displayed as a separate units, allowing the user to overview both units/all batteries in the complete installation. Open PDF guide here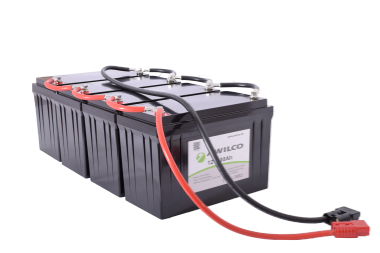 FOR DETAILS PLEASE CONTACT OUR PRODUCT SPECIALIST