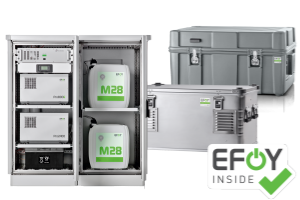 As a system solutions provider, We are constantly working to develop complete solutions for various requirements. EFOY Pro energy solutions combine power generation by EFOY Pro fuel cells and energy storage with batteries in a suitable housing. There is still sufficient space for custom-specific adaptations.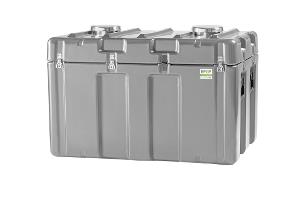 Energy Solution for extreme weather conditions
The EFOY ProEnergyBox has been developed especially for use in extreme weather conditions at temperatures from -40 °C and +50 °C. One EFOY Pro fuel cell, up to three batteries and two M28 fuel cartridges can be integrated into this box. Effective temperature regulation means that the waste heat from the EFOY Pro fuel cell can be used when the temperature is below zero to keep the energy solution warm and to prevent the battery and electronics from freezing. For high ambient temperatures, an effective heat conduction system has been created to protect the components in the box from heat. There is also space for customer-specific installations so that these too can be protected from external weather conditions and operated in protected environments.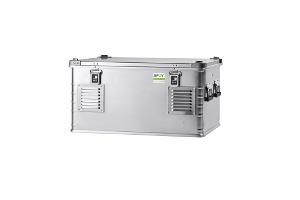 Mobile Energy Solutions
The EFOY ProCube is a mobile, maintenance-free complete solution for off-grid power supplies – instantly ready for use at all times and in any location. The EFOY ProCube is an outdoors-
compatible box in which the fuel cell, fuel cartridge and battery are integrated. The EFOY ProCube can be used temporarily, e.g. on construction sites, or permanently in hard-to-access areas.
The EFOY ProCube is pre-confi gured and can be customized to the client's requirements through the choice of EFOY Pro, fuel cartridge and battery size.
Ideal for outdoor applications or undercover operations
Compatible with hybrid mode – e.g. as back-up or as an expansionfor solar-powered systems
Find the ProCube in our webhop here >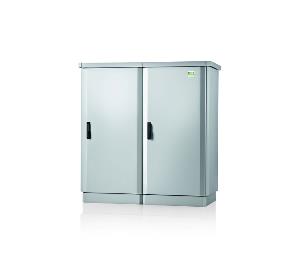 Stationary Energy Solution
The EFOY ProCabinet product line is a series of outdoor complete energy solutions for the autonomous stationary provision of energy with EFOY Pro fuel cells without any grid connection. The EFOY
ProCabinet comprises of a control cabinet which provides space for one or more EFOY Pro fuel cells, M28 fuel cartridges and batteries. The EFOY ProCabinet can be designed in accordance with individual
requirements and therefore offers suffi cient space for customized installations. A GSM modem can also be installed as an option, e.g. for remote system monitoring, a solar charge regulator or a voltage
transformer for voltage adaptations. The EFOY ProCabinet is suitable for stand-alone operation, for example, or as back-up for an uninterruptible power supply (UPS) and is available for the EFOY Pro 800,
2400 and 12000 series in various designs.
Find the ProCabinet in our webhop here >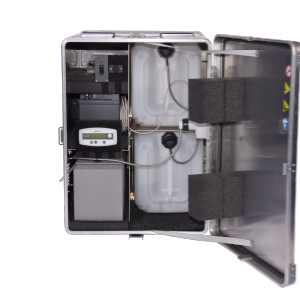 Box A Fuel Cell is a mobile, maintenance-free complete solution for off-grid power supply as always ready for use. The box is suitable for outdoor use and is pre-configured so that it can be adapted to specific requirements according to the appropriate size of the EFOY Pro fuel cell, methanol container and battery.
Box A Fuel Cell can be used for temporary solutions, for example construction sites or other areas where electricity not yet is available. Or in more permanent situations where there are more difficult access options. This complete energy solution is perfect for outdoor use and for hidden solutions. In hybrid mode, it can be used as a backup or as an extension of solar cell systems.
Find the Box-A-fuel-cell in our webhop here
Find the Box-A-Fuel-Cell un our webshop here >
Find EFOY EnergyBox, ProCube and ProCabinet in our shop >
Find AWILCO Box-A-Fuel-Cell system in our shop >
AWILCO Mobile Surveillance Solar Trailer
This all-in-one solar cell trailer with built-in fuel cell is the ideal solution when no grid power is available.
The three solar panels provide 3 * 200W on the sunny summer days. In times when the sun is not always reliable, the fuel cell will automatically take over and supplement with the required power.
The EFOY fuel cell runs on methanol and therefore has no CO2 emissions, as opposed to the old-fashioned diesel generator.
Also when it comes to the noise level, the fuel cell is preferable as it is extremely quiet. Since the fuel cell is service-free, in connection with the solar cells,you can achieve a "stand alone" time of several months. No maintenance is required.
The trailer is simple in construction and can be set up by one person and can therefore easily move from location to location. The trailer can be customized with the equipment you want. Camera, lights, measuring equipment, speaker systems, antennas, etc.
Due to the size and weight of the trailer, it can be fitted to most common vehicles and does not require a trailer license.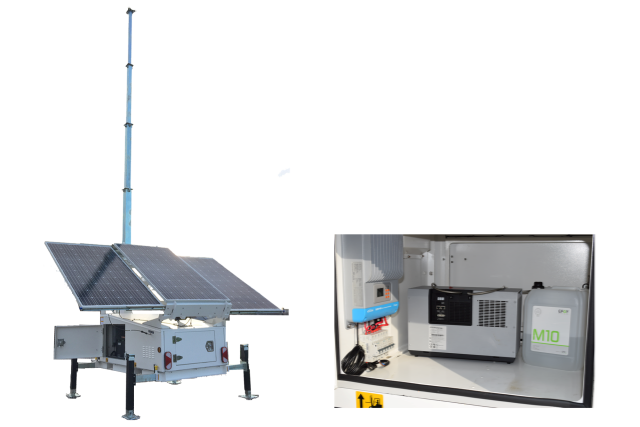 The solution includes the following:
3*200W solar panels
6 meter high mast
EFOY Pro Fuel Cell 2400 (110W)
M28 methanol *2
Solar regulator
Inverter 12V DC to 230V AC
AGM Batteries 200 Ah
The trailer solution can advantageously be used places without access to electricity as for example:
Security and surveillance
Communication
Light
Repeater stations
Find the benefits of EFOY Pro fuel cells here
For details please contact our product specialist