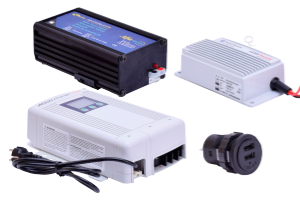 Intelligent Chargers
We have a wide selection of USB chargers, Wireless chargers, Battery chargers DC-DC & AC-DC Chargers. Find your charging solution in our webshop here.
With more than 40 years of charger and battery knowledge, we know how important a charger is for handling battery charging correctly. High quality chargers secure a better life time for the batteries, and help the environment by recycling batteries longer.
Our manufactures have a passion developing correct chargers. They are constantly developing on the tomorrow´s fast growing battery market. Focus areas is many, but we need to highlight following:
Correct charging algorithm
Special designs for various applications
User friendly
Compact and easy to install
Talk with our specialist, about which charger to choose for your application.
For details please contact our product specialists