The true selfpowered portable heater
Reliable in any deployment under any condition.
Entiffic AIR portable portable is a genuine mobile compact cordless heater. It is the ideal tool for any first responder and emergency personnel, providing fast and reliable warmth to those in distress.
Entiffic Air Portable is lightweight, fast to deploy and easy to use – no external power cord is needed. The unit offers 15 hrs. of autonomous runtime. Simply refill the fueltank to add an other 15 hours of runtime. The 12V socket allow you to power smaller LED-lights or charge electronic devices.
The robust design and easy use supports users to provide even life saving warmth under the most harsh conditions. Suited for installation in emergency vehicles.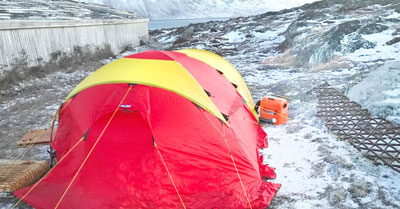 Emergency and relief situations


First responders


Military deployment
Max heat output: 2,0 kW forced air heat

Voltage: 12V DC

Battery: 12V DC 9Ah sealed lead acid

Tank: 3 l  (approx. 15 hours runtime)

Dimensions: W 200 mm x L 387 mm x H 365 mm

Weight: Dry: 12.7 kg / Full: 15.3 kg

Fuel consumption: 0,2 l/hour

Fueltypes: -20°C and higher: Diesel / -20°C or lower: Petroleum, Jet A-1 aviation fuel

Colours: Available in: Orange / Green /  White / All Pantone and RAL colours can be arranged.
Easily operated

Built for everyday use

No cable needed

Indoor and outdoor operation

Power outlet for external devices.
Emergencies: 
First responders and emergency/rescue professional know the importance of keeping those in distress warm and comfortable to reduce stress and prevent shock – Entiffic Air Portable is an ideal tool to support that.
Offering 15 hrs. of undisturbed cordless runtime the unit provides a very high flexibility during deployment in critical situations. Turn it on and direct the airflow where you need it – it's that simple. 
Add a ø60 flexible hose to direct the airflow into a confined space – a damaged car or collapsed structure.
OFF Grid:
Entiffic Air Portable is a great heat source for any off-grid operation.
Tents, cabins, vehicles, trailers and any other space that needs warm air for a period of time can benefit from the flexibility of the units. Lead the exhaust hose to the surroundings and the unit keeps your space warm.
It is even possible to regulate the room temperature with the build in thermostat.
Vehicles:
Entiffic Air Portable is a robust and strong tool to have any rescue vehicle. 
Upgrade the unit with our on-board charge package, which consist of a robust magnet contact for fast "no-hands detachment" and a junctionbox for both 12V and 24V vehicles, ensuring that your unit is allways ready for to be deployed, even after longer periods of non-use.