Wireless chargers: Automotive or land-based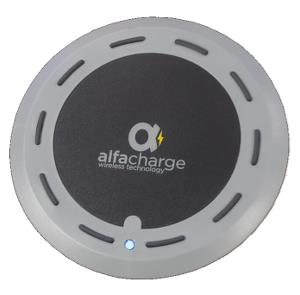 Alfacharge Wireless Chargers – new series by ALFATRONIX
Suitable for any enabled mobile device. No wires, no plugs, no foreign adapters. Just place and charge. Integrated version also available. Easy to install and robust.
Forgetting your charger or worn wires is no longer a problem.
Contact us for more info
Wireless charging is increasingly becoming the preferred method of maintaining battery power in mobile devices, with most of the latest designs from the major manufacturers including wireless charging as standard (QI).
The AL wireless charger is designed for installation into table tops on vehicles such as buses and coaches to allow passengers the ability to charge their devices on the move.
AL3-V and AL1-H automotive wireless chargers are designed to be installed into vehicles and have a wide input of 9/32Vdc to operate on both 12/24V electrical systems.The AL3-V unit is installed through an 80.0mm hole in the table and secured underneath, providing an unobtrusive and functional enhancement of the passenger experience. This unit make a complementary addition to the AL1-H integrated charger modules, and can be installed at the vehicle build stage or as part of a retrofit activity, as required.
AL4-J land-based wireless charger comes complete with a power pack from AC mains. Easy to install into furniture such as desks, bedside tables and counter tops, which makes it ideal for tough, publicly accessible areas where different users with a variety of mobile devices come and go.
The wireless receiver of the charging unit will automatically detect the presence of suitably enabled mobile devices and will typically charge through a case up to 3.0mm thick.

Customised branding:
Alfacharge wireless chargers can be customised to include your logo and reflect your corporate colours.
Find the standard Alfacharge Wireless chargers in our webshop here
For details please contact our product specialists